Pad printing samples
Pad printing samples-bargaining chips, Toys, Plastics box, cups
Pad printing and silk screen printing have a very wide range of applications, but they still have some gaps. For example, silk screen printing achieves more functional results than pad printing, such as: printed circuit boards, printed heating layers, and silk screen printing. To achieve a special function, but the shape of the product suitable for silk screen printing is relatively simple, except for flat, cylindrical or some curved products, silk screen printing cannot be used for products with complex shapes. Pad printing is enough. From the aspect of adaptability to the shape of the product, pad printing has the most powerful ability: for example, the inner pot of the rice cooker, bowls and plates, spheres, complex injection molding products, product edges and corners, stepped surfaces products, etc.
The reason why pad printing has strong adaptability to the shape of the product lies in the fact that it relies on a soft and deformable rubber head. As long as the rubber head can have a good contact with the printing surface after deformation, pad printing can be realized, so pad printing is also very good at In toys, gifts, stationery, electronic products, household appliances, electrical components, automotive supplies, hotel supplies, decorations, lamps, toiletries, hardware tools, communication products, etc.
When you encounter products that cannot be printed by conventional printing methods, you should first think about whether pad printing can be used.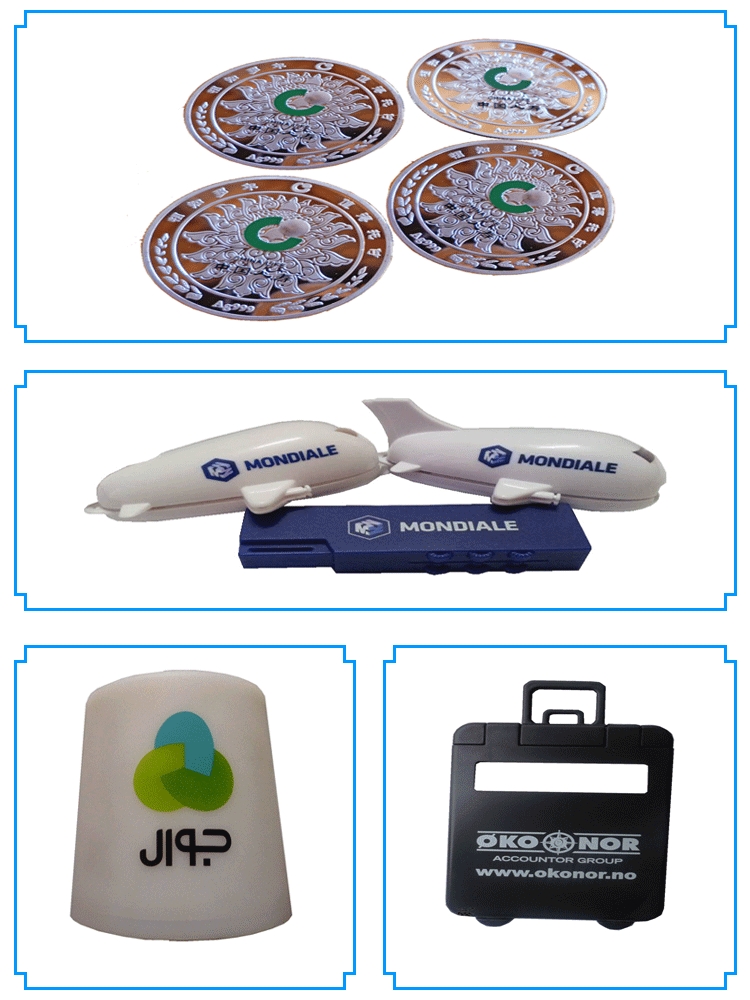 Pad printing samples-USB Key, Lamps, bottles caps, plastics switchs
As the main process of special printing, pad printing involves almost all aspects of life. According to long-term accumulated experience, pad printing has been widely used in the following industries:
Automobile manufacturing industry: accessories for various automobiles and motorcycles: steering wheel, instrument panel, spark plug, dial, button, switch, engine. Bicycles, tricycles and accessories, unmanned aerial vehicles and accessories, traffic safety facilities;
information industry
1. Computer and software: computer, data cable, host accessories, chassis, UPS and power supply, mouse, keyboard, speaker, microphone, electronic notebook, notebook computer, mobile storage;
2. Communication products, communication product accessories, lithium batteries, magnetic cards, IP cards, IC cards, caller displays, chargers, antennas, telephones, mobile phones, switches, fax machines, walkie-talkies, network communication products, communications, audio systems , wireless navigation, remote control;
mechanical and electrical
Tools: hardware tools, pneumatic tools, electric tools, reducers, speed changers, pumps and vacuum equipment, hydraulic machinery and components, fans, exhaust equipment, industrial control equipment and accessories, heat exchange, refrigeration and air conditioning equipment, measuring instruments and measuring tools.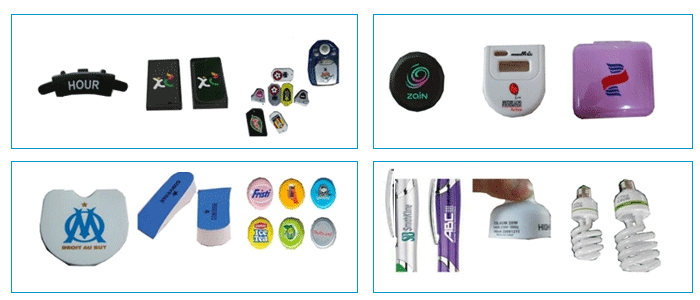 Pad printing samples-paper bowl, Cups, Wristband, Plastics parts,
The biggest feature of the pad printing process is that it can transfer the graphics on the printing plate with a soft silicone rubber head. Due to the flexibility of the silicone rubber, it can be stretched, compressed, and squeezed until it covers the surface of the product to be printed to complete the printing. The universal printing of silk screen printing refers to its infinite tolerance to product materials, but the universal printing of pad printing refers to its infinite tolerance to product shapes.
Except that the precision of pad printing is not as high as that of silk printing, if it is made large enough, it can theoretically print most of the flat products that silk printing can print, and it can also print products that silk printing is completely powerless.
1) sphere
For hard spheres, if it is required to print more than one-third of the spherical surface, the advantages of pad printing are obvious. By making soft rubber heads, hollow rubber heads, or rubber heads that can evenly vent, pad printing can be done. .
2) Bowl, saucer, plate
The tableware used in daily life is a product with a complex shape. Initially, it was printed with decals, which was slow and the proportion of manual intervention was high. The advent of the special ceramic pad printing machine actually found a breakthrough for the mechanized printing of tableware, which was realized by using a soft and variable rubber head.
3) Small size
If the size of the printed graphic is within 50mm, pad printing is the preferred choice due to the small pattern. It is the method with the lowest cost and the best effect.
4) There are obstacles around the printing surface
Products that need to have bumps, sharp corners, ribs, steps, handles and other obstacles around the printing surface, such as ice cream lids, rice cooker bottoms, cable connectors, electrical switches, inner edges of wheels, hair dryers, computer keyboards, Satellite dish, inside of glasses case, inside of clock dial, plastic basket, spoon, etc.
5) Irregular printing surface
In order to be streamlined and not to be imitated, most of the injection molding products are not flat, but a combination of various shapes such as toothbrushes, dials, resistors, stereos, microphones, mice, calculators, and knobs. , Glasses, prosthetic nails, children's toys, handicrafts, etc., all flat products with irregular printing surfaces are the areas where pad printing is good at.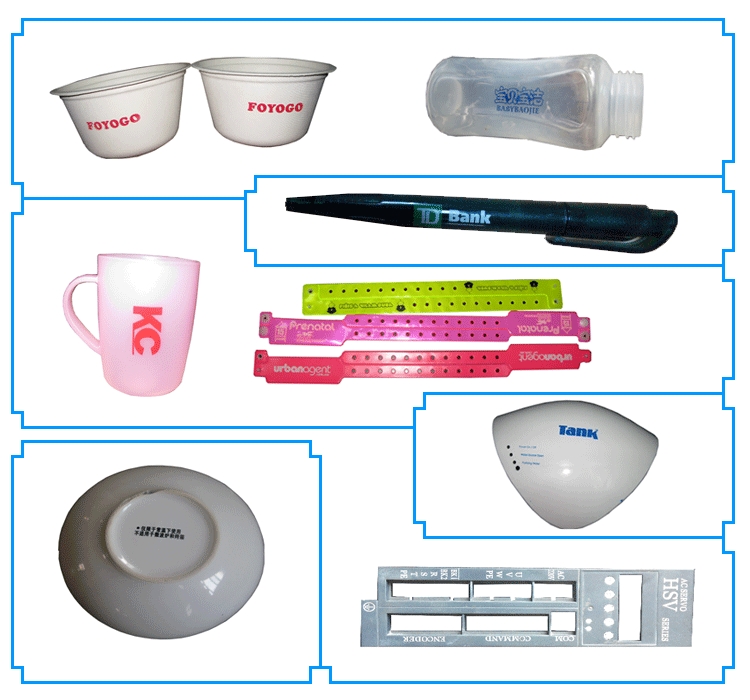 Pad printing samples-plastics toys, metal case, plastics plate, rubber, stationery case
Wooden toys, plastic toys, plush toys, electronic toys, electric toys, toy beads, balls, dolls, toy cars, toy guns, model toys, educational toys, baby carriages and accessories, toy accessories, industrial gift toys, wooden Crafts, plant weaving crafts, stone crafts, gemstone and jade crafts, ceramic crafts, metal crafts, glass crafts, crystal crafts, plastic crafts, resin crafts, carving crafts, antique crafts, religious crafts, folk crafts, sculpture, jewelry, gold and silver Appliances, Fashion Accessories, Lighters, Smoking Sets, Clocks, Photo Frames, Picture Frames, Candles and Candlesticks, Incense and Incense Burners, Decorative Boxes, Key Chains, Chains, Bonsai, Toys, Craft Gifts, Souvenirs, Advertising Gifts, Holiday Products, Funeral Supplies, art gifts, toy design and processing, and others.
1. Household appliances, home computers, home air conditioners, home TVs, water purifiers, water dispensers, juicers, blenders, coffee machines, soybean milk machines, electric kettles, electric cups, electric frying pans, rice cookers, microwave ovens, dishwashing Machines, disinfection cabinets, range hoods, refrigerators, freezers, humidity regulators, air purifiers, heating appliances, water heaters, hair dryers, vacuum cleaners, electric fans, exhaust fans, electric irons, washing machines, hand dryers, oxygen machines, electric drives Insect devices, audio-visual equipment, remote controls, sweeping robots, toy robots;
2. Household paper boxes, household plastic products, household glass products, household ceramics, enamel products, household metal products, fashion accessories, jewelry, gold and silverware, lighters, smoking sets, clocks, photo frames, picture frames, daily chemicals , tableware, cooking utensils, heat preservation containers, kitchen facilities, bathroom facilities, cleaning utensils, gardening utensils, furniture, strollers and accessories, boxes, bags, bags, umbrellas, rain gear, sun umbrellas, knives, scissors, brushes, sewing, weaving, babies Supplies, Timers, Pets & Supplies, Doorbells, Video Doorbells, Lighting & Fixtures, Others.
Pulp packaging boxes, labels, signs, tapes, trays, wooden packaging supplies, plastic packaging supplies, glass packaging supplies, metal packaging supplies.
Office products, pens, cups, laboratory furniture, desks, chairs, safes, filing cabinets, compact shelves, other office furniture.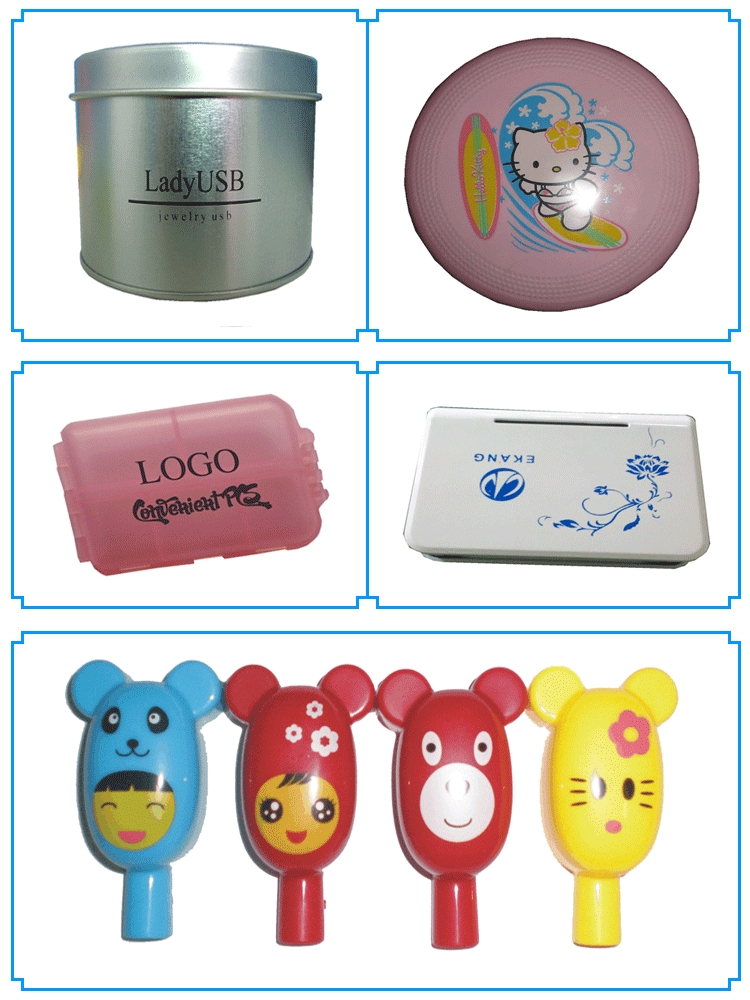 Pad printing samples-bottles caps,toys, Clock plate, Watch belt
Travel and leisure travel products, crutches, tents, hotel supplies, toothbrushes, combs, razors, hair dryers, pets and supplies, souvenirs, chess, musical instruments, fishing equipment, fitness equipment, entertainment facilities.
Office culture and education
Optical and photographic equipment, digital cameras, stationery, calculators, envelopes, file folders, floppy disks, toner cartridges, ink cartridges, teaching models, appliances, teaching facilities, laboratory supplies, telephones, videophones, fax machines, copiers, printers, Typewriters, projectors, paper shredders, attendance machines, plotters, drawing machines, literary equipment, stage lighting and audio equipment, photographic equipment, video equipment.
Electronic and Electrical
Magnetic materials, semiconductor materials, insulating materials, electrical ceramic materials, electronic components, components, batteries, lighting and lamps, plugs, sockets, chargers, electric tools, laser instruments, optical instruments and accessories, wires and cables, power distribution devices, Switch cabinets, lighting boxes, electric heating equipment, industrial automation devices, antennas, radar and wireless navigation, radio and television, telecommunications equipment, electronic and electrical products.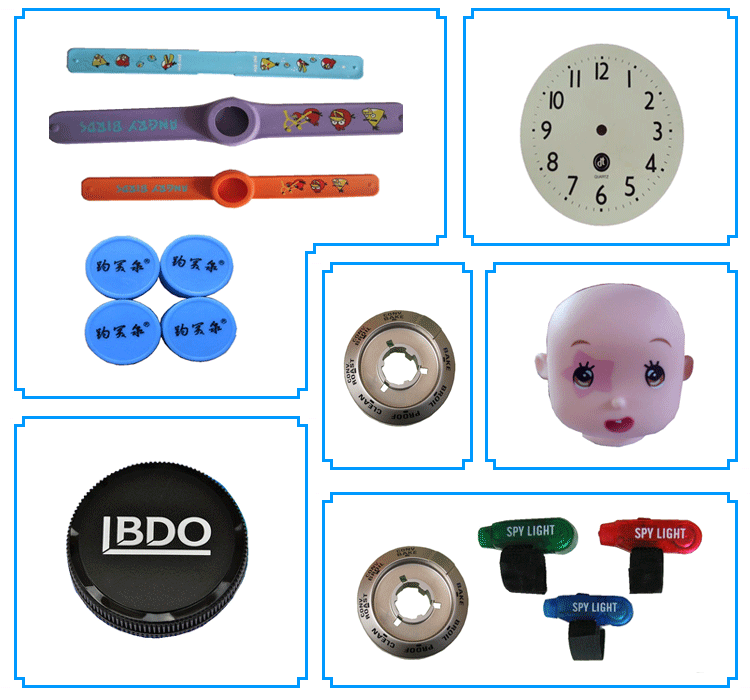 Pad printing samples-lamp covers, plastics screw, plastics desk, plastics gifts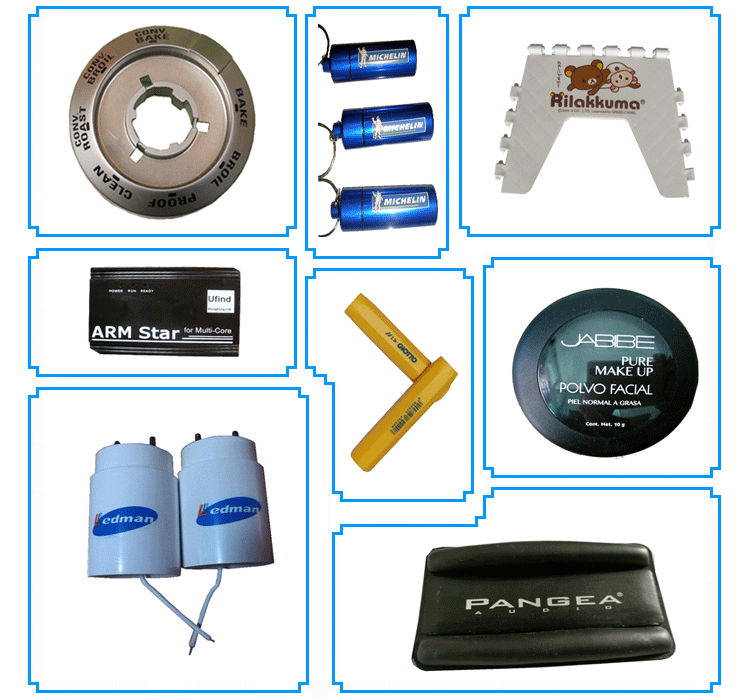 Pad printing samples-bank keys, Cemara, computers, lighters, bottle openers
Both pad printing and silk screen printing can print flat products, but when to choose pad printing and when to choose silk screen printing, there is a simple standard:
Dimensions of the product: choose silk screen printing for larger dimensions, pad printing for smaller ones.
The number of colors of the product: Single-color products are preferred to silk screen printing, and multi-color products are preferred to pad printing
Requirements for glossiness: For those with high glossiness requirements, choose silk screen printing as much as possible, and for those with low glossiness requirements, choose pad printing.
These are just preliminary judgments. The real choice of pad printing and silk screen printing mainly depends on the user's understanding of pad printing and silk screen printing, which process costs less, which process the operator is better at, and the understanding of plate making methods. Pad printing and silk screen printing are like a bunch of twin sisters, they complement each other, the disadvantage of silk screen printing is sometimes the advantage of pad printing, the deficiency of pad printing may be the specialty of silk screen printing, in many cases, pad printing and silk screen printing can also be used interchangeably, Together they are the secret weapon for decorative products.
Pad printing samples-brushes, perfume box, ice cream cover, electric parts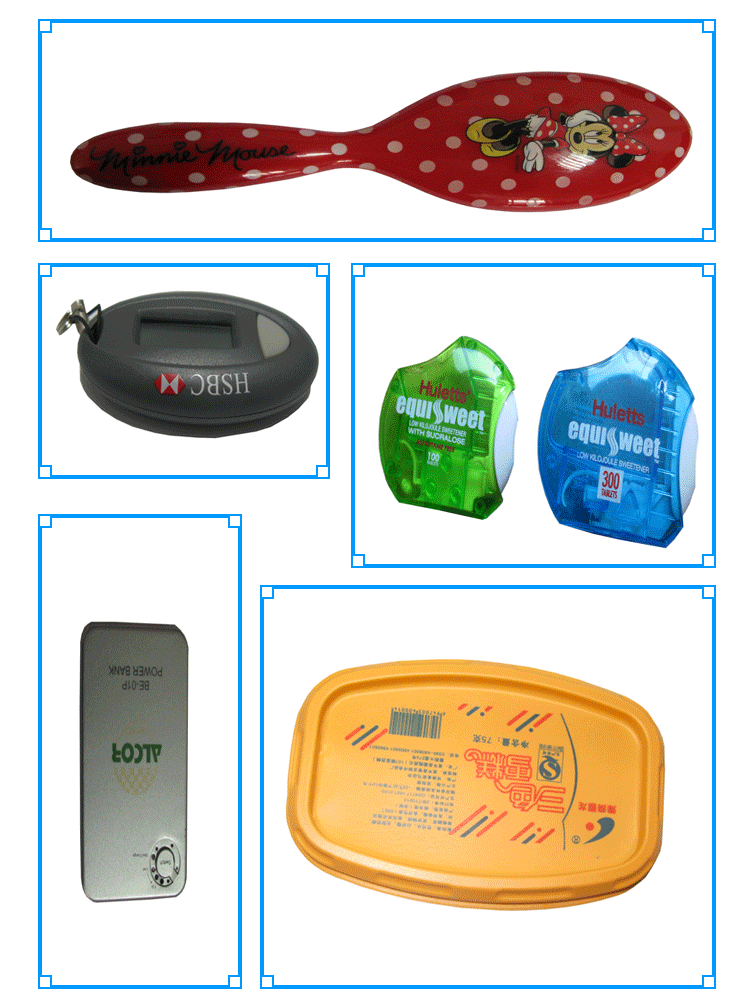 Pad printing samples-Plastics parts, sports equipment,cosmetic box,grinding wheel
Beverage caps, wine bottle caps, tea and products, coffee, cocoa and products packaging, canned food, quick-frozen food, convenience food, snack food, bean products, egg products, edible oil, condiments and other packaging.
Clothing, clothing accessories, hats, ties, gloves, socks, shoes and shoe materials, knitted clothing, woven clothing, branded clothing, baby clothing, children's clothing, underwear, T-shirts, shirts, sports clothing, leather, buttons, belts, ;
Locks, safes, doorbells, video doorbells, anti-theft facilities, alarm devices, monitoring, monitoring equipment, lightning protection products, bullet-proof equipment, riot-proof equipment, self-defense equipment, supplies, life-saving equipment, fire-fighting equipment, work protection equipment, sports protective gear, Security equipment, police equipment, and emergency services, others.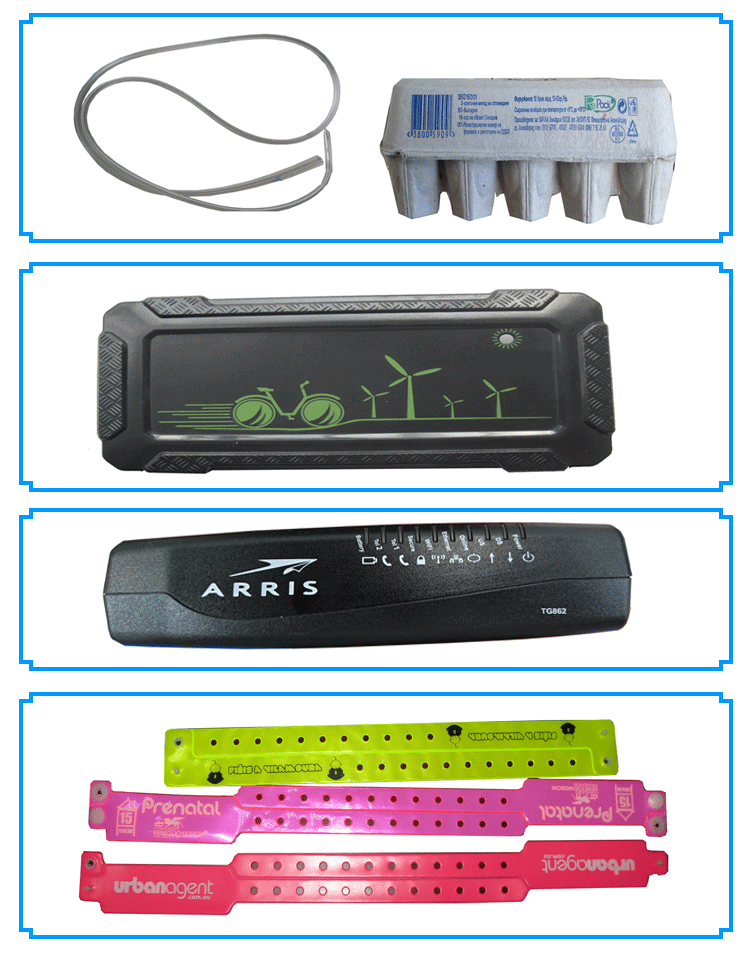 Pad printing samples-pen, pencil, writers
Pad printing for pen barrels is also a very common printing process, especially those pen barrels that are square, unconventional cylinders, and mixtures of flat and cylindrical surfaces. Those standard cylindrical pen barrels and approximate cone pen barrels can also be printed on a certain side.
Those who require printing on the clip of the pen can only use pad printing.
There are many kinds of materials for the pen holder, as long as the appropriate ink is selected, any material of the pen holder can be printed. Needless to say, semi-automatic pad printing machines, as long as you can make a suitable fixture, printing is no problem. Now the key is how to customize a fully automatic pad printing machine for the user. It is not difficult to manufacture a fully automatic pen holder pad printing machine. The difficult thing is how to install a pre-press processing device, whether to use plasma treatment or automatic PP solvent wiping device.